When Biology Professor George Bloom arrived at the University of Virginia in 2000 after 16 years at the University of Texas Southwestern Medical Center, he was ready, as he says, "to press the reset button." More specifically, he wanted to change his research focus.
"I was really interested in transitioning from what my career had been mainly up to that point, which was very basic cell biology, into Alzheimer's disease and other neurodegenerative diseases,' Bloom says. "U.Va. made me an offer I couldn't refuse. I've been able to accomplish that goal of transitioning to a lab that is, at this point, almost 100 percent Alzheimer's and other neurodegenerative diseases research."
For Bloom and other faculty in the College and Graduate School of Arts & Sciences, the College's support of faculty efforts to fund their research plays a critical role in advancing their scholarship and discoveries. Ultimately, the research funding received – and its original source – varies widely for faculty within the sciences, social sciences, arts and humanities. But at a time where there is increasing competitiveness for a limited pool of federal funding, College faculty across these disciplines continue to push the frontiers of new knowledge through a variety of funding resources.
The fruits of that funded research within the College can be seen in the work of Bloom and his colleagues advancing research in the medical field. It also can be seen in in the award-winning research of literature scholars such as the Department of English's Anna Brickhouse; the associate professor's 2014 book on a 16th-century Native American translator was the recent co-winner of an Early American Literature prize for the best newly released academic book about American literature in the colonial period. Likewise, College research grants have helped professors such as William Wylie, director of the College's Studio Art program, spend months abroad in support of a variety of projects, including one offering students a glimpse inside the first photos of Pompeii.
Dr. George Bloom, Biology Professor
When Dr. Bloom arrived at U.Va., he came aided by grant funding from the National Institutes of Health. But that money was designated toward basic cell biology research, so he had to start fresh in seeking funding for his Alzheimer's research. Thanks to resources provided by U.Va., as well as outside grant funding, Bloom, with the assistance of a handful of lab members, has made several important discoveries that have advanced Alzheimer's research worldwide.
"It's a very competitive field to receive funding in," Bloom says. "I've been fortunate to be very well-funded for the last several years, including now."
Currently, his funding primarily comes from the Owens Family Foundation, which was made possible through a donation by the Foundation to U.Va. with the stipulation that a specific portion of the gift be earmarked for Bloom's lab. Most of Bloom's funding is through Foundation grants and private gifts.
"The proportion for my lab is substantial, more per year than the annual direct costs from a typical NIH grant, so I am extremely grateful for the Foundation funding," he says. 
Bloom teaches one major course a year, a lab course in cell biology. Much of his time is spent collaborating with other professors worldwide on publications about his research and running his lab where he's joined by, at present, four Ph.D. students, two post-docs, four undergraduates and a community scholar.
The lab's primary focus is, as Bloom explains, "what happens at the very beginning that converts a normal, healthy neuron into an Alzheimer's or a Parkinson's neuron. Our goal is to understand the complicated cell signaling that's going on: what signaling networks are activated during the very early stages of pathogenesis. The idea is to identify molecules that can serve either as early diagnostic markers for Alzheimer's or as therapeutic targets."
The lab group is also working on two early stage translational projects, managed by one of the postdoctoral scientists, aimed at developing therapies for Alzheimer's and other neurodegenerative diseases.
When the lab unexpectedly started to run a budget deficit, the University stepped in to provide $90,000 in interim funding. Combined with $25,000 from the President's Fund for Excellence, as a match to a $25,000 pledge over 5 years from a recent UVA alumnus, the interim funding was sufficient to keep the lab running for 6 months until the next major influx of support from the Owens Family Foundation arrived, Bloom says.
"I am eternally grateful that U.Va. came to my lab's rescue, but we all must understand that U.Va.'s resources for interim funding are limited and must be reserved for those instances when vibrant and productive labs face short term financial stress," Bloom says. "Neither U.Va. nor any other research university can afford to fund all of its in-house biomedical research."
Bloom oversees the lab's work: the graduate students and post-docs collect the data that's often used for publication, information that's also essential to securing grant funding that in turn keeps the lab operational.
Erin Kodis is one of those graduate students. The U.Va. Ph.D. candidate has worked in Bloom's lab since 2012 as part of her thesis work. She is paid through the Department of Biology for both her lab work and her job as a teacher's assistant; when she's not teaching, she spends the majority of each day at the lab.
"George isn't doing experiments side-by-side with me each day," Kodis says of Bloom. "We'll meet every week, and I'll say, 'Here are the experiments I did and the results.' We go through them and talk about what to do next and what everything means. He's an adviser in that sense, managing all of us working on different projects."
Projects that Bloom says are completely contingent on funding.
"U.Va. and, as far as I can tell, just about every university in the U.S. and many other countries, provide researchers an opportunity to do research if they can raise the money to finance it," Bloom says. "There are occasions when U.Va. has internal competitions for modest amounts of funds, $100,000 or less, and that's pretty typical at a lot of universities. On rare occasions, there are large awards open strictly for intramural competition. But the vast majority of money required to conduct research comes from external sources."
Given the heavy reliance on outside funding, Bloom mentioned that as much as 30 percent of his working time is spent on applying for grants and research funding.
Anna Brickhouse, English professor
After graduating from U.Va. in 1990 with a bachelor's degree in English, Professor Anna Brickhouse moved to New York City to earn her Ph.D. from Columbia University. She taught at the University of Colorado before returning to Charlottesville in 2005 to join the faculty in the Department of English and the American Studies program. She had just published her first book, "Transamerican Literary Relations and the Nineteenth-Century Public Sphere" and had received a grant from the University of Colorado to start researching her next one.
Upon arrival at U.Va., she spent her first year on a research sabbatical. "U.Va. was wonderful about honoring that grant," Brickhouse says. "It's so precious to get times of uninterrupted research."
She spent the year researching her next book's subject matter. Initially, she thought she would focus on the colonization of Jamestown, but as she learned more about the story of 16th-century Native American translator Don Luis de Velasco, she realized that she wanted to tell his story.
Brickhouse didn't apply for any grants for the following two years, focusing instead on teaching and working as the director of undergraduate studies. But as she approached her next sabbatical opportunity (sabbaticals are available every 10 semesters), she hoped to apply for another grant.
She received a one-year fellowship from the American Council of Learned Societies for the 2012-2013 year, which she used to write. It was the second of two research leaves that propelled Brickhouse's progress. The first, a two-semester leave, was funded by the College of Arts & Sciences and the Department of English.
"It took two fellowships, five years apart, to do the research and figure out what I was doing and get it organized," Brickhouse says. "I worked over summers and breaks, too, but I needed that full year [2012-2013] to write it."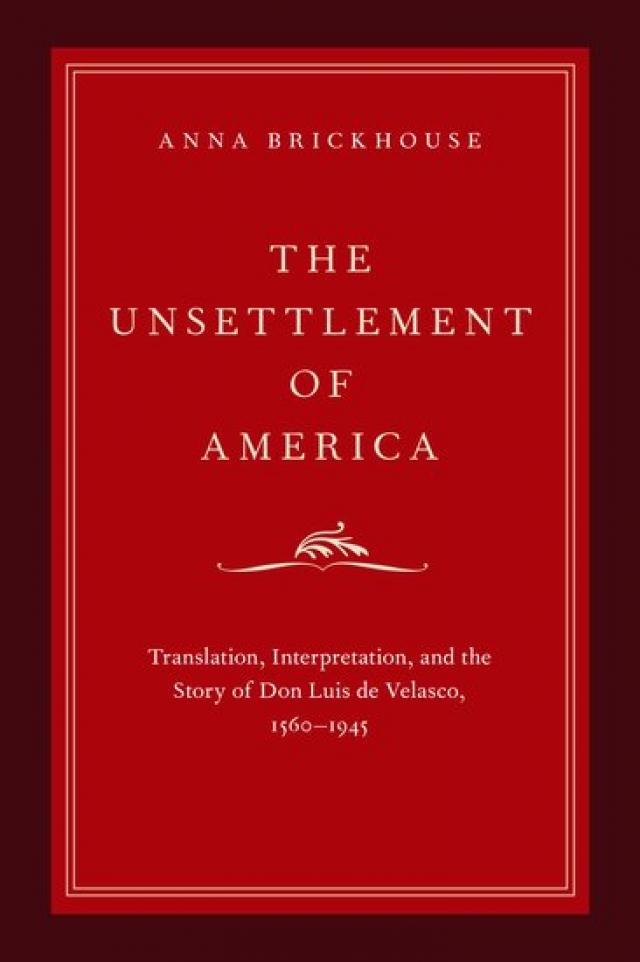 "The Unsettlement of America: Translation, Interpretation, and the Story of Don Luis de Velasco, 1560-1945" was published in November of 2014. Throughout the process, Brickhouse relied on several graduate students for assistance. The English department has funds available for professors to hire graduate students, who are paid an hourly wage.
"But it's very different from the kind of large funding for labs that scientists need," Brickhouse says. "It's more like extra money for the student who's likely already getting some kind of funding package. I don't have to apply for a grant to get a research assistant."
Jenny Braun, a U.Va. English Ph.D. student, was one of her primary researchers. Braun worked as Brickhouse's research assistant for 10 hours a week over the summer of 2010 and during the following semester, researching several publication projects. She also read the introduction for Brickhouse's newest book, offering copy-editing and editorial suggestions.
"I enjoyed the work a lot," Braun says. "It was great to be able to see professors, how they work, and to really see them go through the process of writing. Especially earlier in graduate school, when I was starting to think about the public life of my work, whether presenting at conferences or submitting publications, it was great for me to get out of thinking like a student and see the scholarly writing process."
Brickhouse says this type of collaboration is mutually beneficial.
"The English department is really wonderful about making connections between faculty and graduate students so they can be research assistants, and they learn what it looks like to write a book," Brickhouse says. "I've had graduate students who not only helped me find things but also interpreted things, gave me new ideas and criticism. They were like colleagues."
William Wylie, Professor, Director of Studio Art Program and Director of Studio Art's Study Abroad Program in Italy
For Wylie, the availability of research grant opportunities played a major role in his decision to come to U.Va. in 2000 after five years teaching at Colorado State University.
"I applied for research grants and College of Arts & Sciences grants right away because I was trying to develop new projects abroad," he says. "In 2001, I began the work on the marble quarries of Carrara, Italy and received support periodically over the next five years through the College. That support ultimately led to the publication of a book in 2007."
Dan Addison / University Communications
Wylie has worked on art projects around the world, a costly production both from a travel and materials standpoint. Grant funding – particularly from the College of Arts & Sciences – has allowed not only for Wylie to spend months abroad but also for him to utilize the latest technology in producing his photographs.
Since arriving at U.Va., Wylie says the College's research grants have helped him with three main projects: the early research of Carrara marble quarries, a documentary film and photography project on a small, rural Colorado high school six-man football team, and most recently, the photographing of Pompeii by re-tracing the steps of 19th-century photographer Giorgio Sommer, the original documentarian for the excavations of the ancient Roman city.
"I couldn't have done these projects without research grants from the University," Wylie says. "For the Pompeii project, I am on site everyday, using the same equipment that the 19th-century photographers used, only now the expense of large-format film and printing technologies can be very expensive."
In addition to the College research grants, Wylie relied on five different summer grants and research grants to further his work in the marble quarries of Carrara, Italy. The Colorado football project was funded by separate grants in 2012 and 2013. The Pompeii work began on a sesquicentennial leave and was further funded by summer grants, research grants and Small grants, as well as a Hobby Fellowship.
The Carrara work has been exhibited internationally and is in the permanent collections of the Metroplitan Museum of Art, The Smithsonian, Museum of Fine Arts, Boston, Princeton University and Yale University, among others. The football project will be published as a book in 2016, and the film is in museum exhibitions this year in Colorado and Oregon. The Pompeii work will be exhibited at the University of Richmond in 2016, and there are plans for the Yale Art Museum in the future.
While he doesn't utilize graduate students – Studio Art doesn't have a graduate program, and students do not travel with him for the grant-funded projects – undergraduates have worked with Wylie on the technical lab aspects of scanning, editing and printing his photographs.
Wylie was on leave while while working on his Colorado project in 2012, but he acknowledges that without additional research funding, that project – and likely his other current endeavors – might never have been launched.
"A sabbatical gives you time to devote to research, but if you have a mortgage and bills to pay, the additional support of the College is crucial to making these projects a success," Wylie says. "I couldn't have done them any other way."