Undergraduate students rarely arrive at the University of Virginia with their career paths set in stone. More students, however, are eager today to start chiseling away as quickly as possible to specialize their studies toward a potential career.
As a debate over the vocational value of a liberal arts education focuses on the employment outcomes it can provide, a new program within the College and Graduate School of Arts & Sciences aims to help students discover how a class schedule that takes advantage of courses stretching across more than 50 departments and programs in the social sciences, arts, humanities and physical sciences can open up career avenues they have yet to discover. The Armstrong Scholars Program Fund helps College students explore the spectrum of career fields awaiting them after graduation, highlighting the value of the analytical, problem-solving and communications skills honed within a liberal arts education.
Or, as U.Va.'s Associate Vice President of Career and Professional Development Everette Fortner puts it, "We want to change the language from 'What in the world can you do with an English major?' to 'I can do anything in the world with an English major.'"
OPENING DOORS OF DISCOVERY
Proceeds from the Armstrong endowment, a gift provided by the late Richmond business and civic leader Beverley W. "Booty" Armstrong, allowed the College to launch a pair of liberal arts seminars for undergraduates this academic year. Additional philanthropic commitments amounting to $1.68 million from the Thompson Dean Family Foundation and the Jack E. Harper, Jr. Endowment will serve to expand the program, and to evolve the scope of the courses to expose students to a broad gamut of careers in the public and private sectors.
The initiative was spurred by an interest in addressing the evolving nature of higher education, while also reinforcing the value of a liberal arts education in a global economy where translating the transcript to a resume of professionally valuable skills becomes increasingly important.
"The liberal arts education that our students receive in the College holds true, professional value in the global economy they will be entering and helping to remake," said Ian Baucom, Buckner W. Clay Dean of Arts & Sciences. "The liberal arts will empower them to open doors of discovery, and we want those discoveries to lead to passions and vocations that attach deep meaning to their lives."
Twenty-six first- and second-year College students took Fortner's seminar this fall. Titled "The Liberal Arts and the World of Work," the course helped students develop early career objectives and develop strategies to connect with mentors and internship opportunities, incorporating guest lectures from some of the College's most distinguished faculty as well as College alums who returned to Grounds to discuss how their liberal arts educations opened up different job opportunities, during and after their time at U.Va. (The course will be offered again in spring 2015.)
Kirsten Gelsdorf, the Chief for Policy Analysis and Innovation for the United Nations' Office for the Coordination of Humanitarian Affairs, will teach this spring's upper-division seminar, "The Liberal Arts and Professional Engagement." The third- and fourth-year students in Gelsdorf's course will explore career fields responding to today's global trends and challenges and discuss some of the core competencies necessary for success in a variety of professional environments.
The class will teach students how to apply their liberal arts education to critical leadership, communication and organizational skills. Students will also participate in a semester-long team project involving planning career site visits to Washington, D.C. and organizing forums and roundtable meetings with outside professionals. 
A veteran of UN humanitarian missions in Asia and Africa, Gelsdorf said that a college graduate armed with the ethical and professional competencies provided by a liberal arts education can forge a variety of career paths.
"Look at a global challenge like climate change, and all the fields that touch on that," Gelsdorf said. "Public policy, solar power manufacturing, the insurance industry, environmental law: students have a range of professional opportunities that they can engage in, all of which build on the course work they have had as undergraduates."
The long-term plan is to add additional sections of each course and to explore closer ties with University Career Services to help students with career planning, summer internships and other opportunities to engage students earlier as they plan for life after graduation.
"We're trying to help students get over this daunting thing of, 'I've got to figure out my career,'" said Fortner, who also heads University Career Services. "You don't have to figure out your career just yet. You just have to start finding out what you're interested in, and what you're good at. … It's about developing skills and competencies in the courses you take. That's what leads to success in a career."
DISTINGUISHING BETWEEN FUNCTION AND INDUSTRY
Dressed in a light blue button-down shirt, khakis and a pair of brown Oxfords, Fortner personified a friendly, business casual approach as he greeted students to his seminar one October afternoon. As he reminded students to pick up their graded papers on potential career objectives, the former marketing executive for General Foods and Oscar Mayer and Darden School of Business graduate cheerfully invited them to take a brownie or cookie from the mound of snacks he had brought.
The tone remains friendly and casual as Fortner prods the first- and second-year students in his class to distinguish between "function" and "industry" as they classify different professions and the skills they require, but the students remain alert, uneager to be caught flat-footed by one of Fortner's questions.
"You can't go to his class with the mindset of, 'Oh, I'm tired today. I just won't talk in class,'" said Katherine Harrison, a first-year student from Christiansburg, Va. "In order to get the most out of the class, you have to be involved in the discussion.  … The class keeps you on your toes."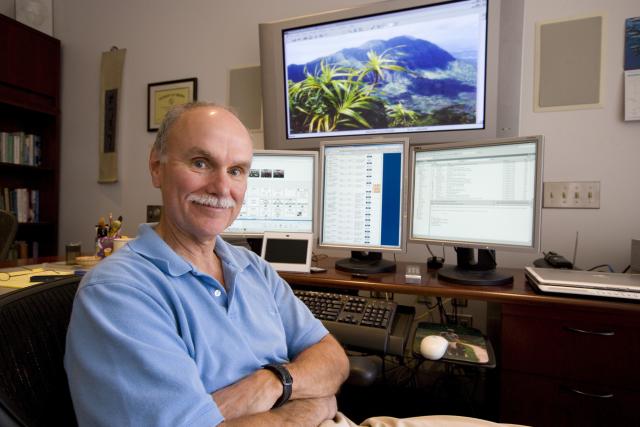 Dan Addison / University Communications
Earlier in the semester, Fortner invited Psychology professor Dennis Proffitt to give a lecture entitled "The Ecology of Vision." Fortner asked Proffitt and other faculty members invited to deliver lectures that connect to problem-solving, communication or other key competencies provided by a liberal arts education. Proffitt's lecture opened with the example of a frog, whose vision requires rapid movement to detect potential prey, going hungry in an aquarium full of dead flies. From there, the lecture touched on cognitive science, psychology, anatomy, physiology, biology and sociology.
"He covered so many areas in one lecture, the question that we pose afterward to students is, 'What part of the lecture were you most interested in?'" Fortner said. "So we start parsing out what he was talking about and find their real interests."
For other classes during the seminar, Fortner invited College alums to speak to the students about the career paths they took.  Anne Kave, now senior director of human resources communications for Capital One Financial, visited from Richmond in October to talk about her career path as an English major within the College. She went from college internships at The Washington Post and the Wall Street Journal as an aspiring journalist to gravitating toward public relations and ultimately to corporate marketing while earning her MBA.
"I was a liberal arts major as well, and that's one of the reasons why I'm so passionate about this," Kave told the class. "I've seen the foundation it gives you, and the many career possibilities that can come from the core skills developed as a liberal arts major."
Several of Fortner's students said they weren't sure what to expect when they signed up for the Armstrong seminar. Yet even those who arrived on Grounds with what they thought were fairly specific career goals said the class led them to remain open to other potential paths.
First-year student Caleb Vineyard said that he showed up at U.Va. with "a general idea" that he wants to eventually work in the finance sector, probably in accounting.
"We've had successful people come speak to us and tell us what it takes to be in their respective industries, and that has certainly been helpful in seeing that there isn't one set path to personal success," the Purcellville, Va. native said. "Life takes you to obscure places, but it also introduces you to people and gives you opportunities that you must take advantage of.
"After listening to so many corporate and academic speakers, I've become more open to the idea that it really isn't about your major, but rather what measures you take on your own, whether it be networking or building skills to distinguish yourself from the everyday person."