Clark Hall's Energy-Savings Efforts Earn UVA Building National Recognition
Home to the University of Virginia's Department of Environmental Sciences and three floors of environmental research labs, Clark Hall served as an unsurprising candidate to lead UVA's energy conservation efforts by example.
Widespread sustainability efforts in Clark Hall, which also houses the Charles L. Brown Science & Engineering Library, have earned the building national honors and recognitions, including a new certification by Leadership in Energy and Environmental Design, or LEED, the most widely used green building rating system in the world. The new certification rating system is designed to help building owners assess operations, upgrades and maintenance on a consistent scale, in an effort to maximize efficiency and reduce environmental impacts.
On January 18,  the College and Graduate School of Arts & Sciences and the UVA Office for Sustainability hosted a public celebration in recognition of Clark Hall becoming the first UVA building to earn Silver-level certification under the LEED Green Building System for Existing Buildings, Operations and Maintenance. University leaders and project contributors will gather in Clark Hall to offer presentations on the initiative, which has led to a 67 percent reduction in the building's energy costs totaling $750,000 in annual savings.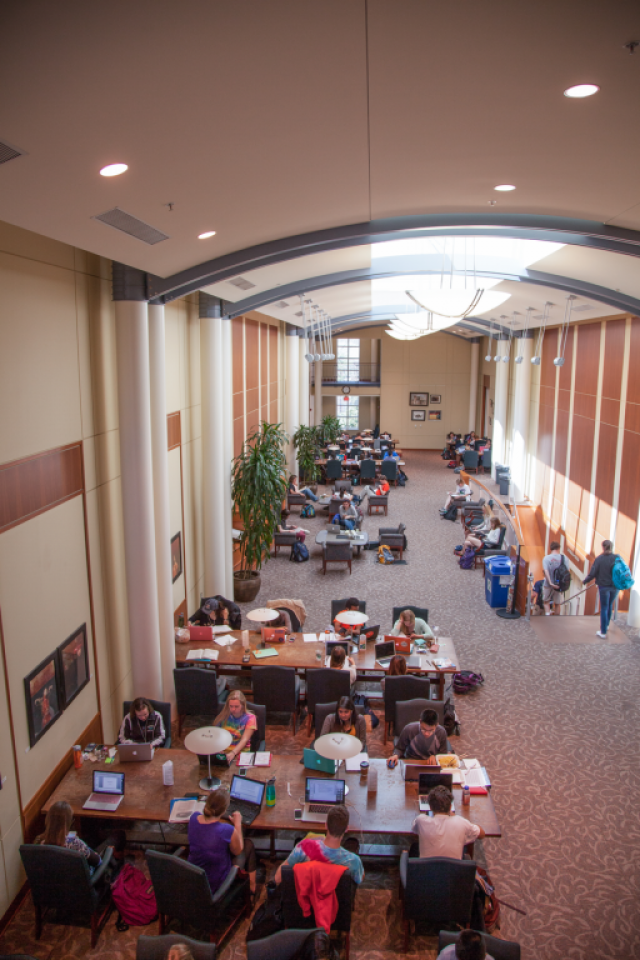 Arts & Sciences Dean Ian Baucom praised the cooperation between the Delta Force – the team of UVA engineers, technicians and specialists focused on conserving resources such as energy and water – and the faculty, staff and students who work, study and research in Clark Hall. Their combined efforts made the infrastructure updates, automation of building systems and transitions to more energy-efficient practices possible, he said.
"I'm so impressed by the spirit of competition and collaboration that led to this," Baucom said. "The Delta Force has done amazing work bringing together different units of the University: the faculty who competed to think about ways to make their labs more energy efficient, all the planners, everyone involved in Facilities Management, all the faculty and students and staff who contributed to this … We are much more energy efficient, and that's going to make a great long-term difference, not only from a budgetary perspective, which is meaningful, but far more significantly in terms of ensuring that we have a resilient and sustainable environment."
In addition to the Silver-level LEED certification that it earned, the Clark Hall project also has been recognized by Smart Energy Decisions. The online information resource recently announced that the Clark Hall project had won its annual Smart Energy Decisions Innovation Award in the category of Higher Education Energy Efficiency Technology. The award is scheduled to be presented March 13 at the organization's 2019 Innovation Summit in Houston, Texas.
Clark Hall's energy upgrades included:

The conversion of all lighting to light-emitting diode, or LED, lamps.
The installation of low-flow toilets and sink aerators, reducing bathroom water use by an estimated 47 percent.
Upgraded controls on the heating, ventilation and air conditioning system.
Upgraded electronic control valves to turn off air compressors, which are major energy consumers.
The repairing the energy recovery system, which recaptures energy from the exhaust air stream.
The installation of new recycling and waste stations.
UVA President Jim Ryan said the success of the Clark Hall project serves two of the University's key priorities, sustainability and building efficiency.
"From the Office of Sustainability's Delta Force, to Facilities Management, to the faculty and staff and the Department of Environmental Sciences, Brown Library, and Building Services, thank you," Ryan said in a pre-recorded statement for the Jan. 18 celebration. "Thank you for working together to achieve truly amazing results. The impact you've made is remarkable. I understand that we're preventing the emission of over 5,000 metric tons of carbon dioxide equivalent per year and that we're reducing our annual energy expense in Clark Hall from about $1.2 million to about $450,000. That's great news for all the right reasons, especially for the planet. And I certainly don't mind the huge improvement to our balance sheet."
Within the Department of Environmental Sciences, faculty and researchers collaborated with efforts to assess the building's laboratories to identify potential areas for energy reduction. Lab spaces can be among the most challenging to regulate in terms of adjustments to air change, which refers to how often the air in any particular lab space is exhausted and replaced by fresh air. Labs require a certain number of air changes, because chemicals are often used in those spaces for experimental purposes. Those air changes can be expensive because all of the fresh air that is brought into the building by the HVAC system is brought in from outside and has to be heated or cooled as it enters the building. 
In the interest of optimizing the number of building air changes to help reduce HVAC system operating costs, Clark Hall's air flow rates were scaled back where it could be determined to be safe and appropriate, such as in work rooms, offices and other non-lab spaces.
"There was a whole process we went through when considering the air exchanges in all the labs inside Clark Hall," said David Smith, associate chair of the Department of the Environmental Sciences. "We had to explain to the faculty what we were doing to reduce the air exchanges, why that was important, and the steps we were taking to ensure that it didn't impact them or their work."
Staff within the Department of Environmental Sciences and Clark Hall's other occupants have demonstrated their own commitments to alternative transportation, green procurement and sustainable dining as part of the wide-reaching project. Whether it was switching to communally shared printers and 100-percent recyclable paper to working with the Office for Sustainability to adjust computer sleep settings, address air temperatures in office spaces and consolidate appliances where possible – an effort that earned the Department of Environmental Sciences a "Silver" level UVA Green Workplace Certification – everyone has bought into the process, Smith said.
"What we can say without a doubt is that this project hasn't altered the way we do our work and research, but yet we're saving all this money and doing things a little bit smarter," Smith said.