Graduate School Announces New Associate Dean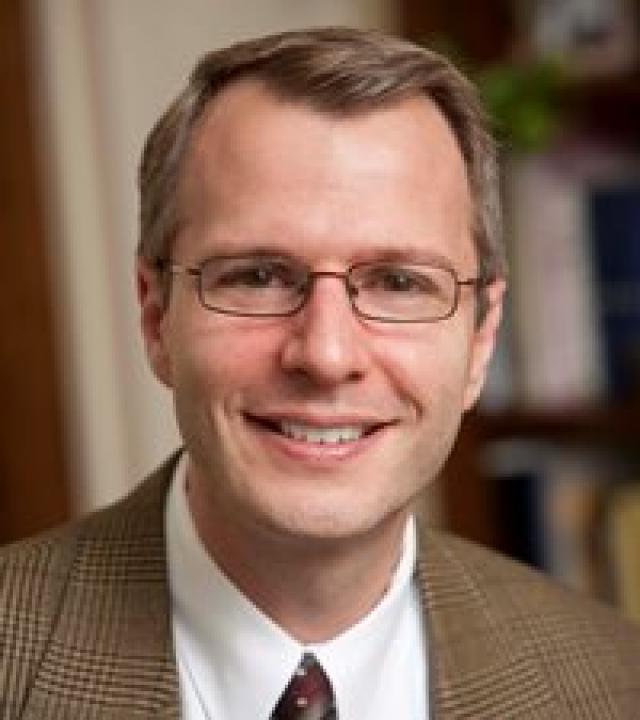 Ed Barnaby will serve as the next associate dean for graduate academic programs. Barnaby has overseen significant advances in academic affairs, admissions, financial aid and career development for A&S graduate students since joining the College and Graduate School of Arts & Sciences in 2012 as senior assistant dean. In coordination with his predecessor, Assoc. Dean Dinko Počanić, he has worked closely with faculty to launch numerous certificate and degree programs while cultivating new resources to recruit top applicants, to achieve a more inclusive graduate community and to support students' research goals
"Working with Ed in partnership with Dinko, with all the associate deans, the Directors of Graduate Studies and other faculty leaders over the past five years, it was easy to see how Ed would build on the momentum in the Graduate School and serve as a great successor to Dinko," said Ian Baucom, Buckner W. Clay Dean of Arts & Sciences. "Ed's leadership, team-approach, and deep commitment to the mission of graduate education will serve the School — and particularly its students — especially well."
Ed's leadership, team-approach, and deep commitment to the mission of graduate education will serve the School — and particularly its students — especially well.
Assuming his new post as associate dean this summer, Barnaby says his immediate concern is to maintain an environment in which the Graduate School's master's and doctoral students can continue to thrive amidst the disruptions of the public health crisis.
"At the same time, we cannot step back from the transformative initiatives of the past five years that have already demonstrated such promise," Barnaby says. "This means ensuring financial support and career options for doctoral students in what will be a challenging economy, as well as showcasing the achievements of students and the faculty who mentor them, celebrating their increasing diversity, and highlighting distinctive opportunities for collaborative training across A&S disciplines and UVA's graduate schools."
Barnaby, who earned his Ph.D. in English from New York University, served as assistant dean of the Graduate School at Yale for nine years before coming to UVA. He was appointed to the general faculty in 2018 as an associate professor of English. The author of Realist Critiques of Visual Culture (Palgrave Macmillan), Barnaby has taught a long-standing seminar at Yale and UVA on 20th-century novels, plays, films and theory that challenge students to reflect on their own role as spectators and consumers of images.
Barnaby succeeds Počanić, who will complete his second term as associate dean for graduate academic programs in August. A professor of experimental nuclear and particle physics, Počanić oversaw the launch of a number of innovative programs, including the Bridge to the Doctorate program for underrepresented students and the Interdisciplinary Doctoral Fellowships program that connects the ethos of cluster faculty hiring to graduate admissions.
Funded by UVA's Strategic Investment Fund, these initiatives are part of a broader program of substantial enhancements of the Graduate School of Arts and Sciences. Other initiatives included:
an increased level of base support for graduate students, closer to levels offered by UVA's nationwide peers;
a lightening of teaching (GTA) loads in certain programs to better match the students' educational needs, and to achieve national competitiveness;
an implemention of school-wide summer support for graduate students over a period of four years;
the introduction of several incentive measures to improve individual programs' ability to compete for best applicants for admission, and to support the scholarship of graduate students.
"While I can by no means take credit for these accomplishments, I hope that my efforts have, at least in a small way, helped to bring them about," Počanić said. "I am humbled and grateful for the opportunity to help in this important program of graduate enhancements."
Baucom said he's deeply grateful for all that Počanić has done as associate dean. "The Graduate School has changed dramatically for the good under Dinko's leadership—with an extraordinary array of new initiatives he was instrumental in bringing to life, and with the wisdom of his consistently thoughtful and insightful guidance in every aspect of the school's day-to-day and longer-term strategic life."
"We'll have the chance later in the year to thank Dinko and celebrate him and his accomplishments," added Baucom. "And please join me in congratulating Ed as our new associate dean."