Historians' Scholarship Making Headlines
A popular new blog launched this summer by The Washington Post offers academic historians a chance to explore parallels between the current political climate and its historic parallels. First proposed by Brian Rosenwald last year after completing his Ph.D. dissertation in the Corcoran Department of History, the "Made by History" blog is edited by Rosenwald and Nicole Hemmer, a professor and writer in the University of Virginia's Miller Center.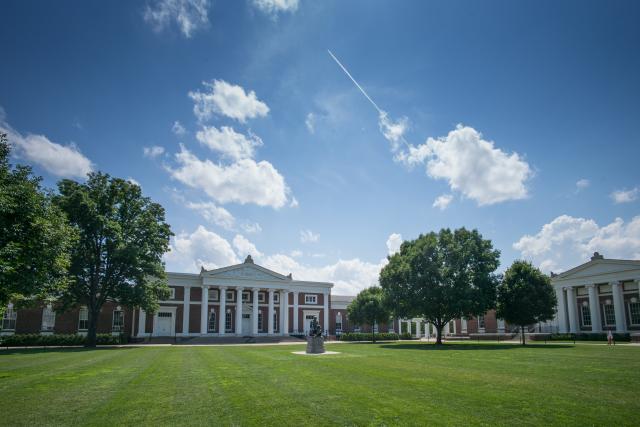 Since its debut on June 26, the blog has featured nine columns authored by UVA faculty and graduate students, including essays authored by Department of History faculty members Sarah Milov, Andrew Kahrl and William I. Hitchcock.
The blog takes its name from a quote by the Rev. Martin Luther King Jr.: "Instead of making history, we are made by history." Offering historical context to topics ranging from national anthem protests in the NFL and the legacy of Hugh Hefner to the debt ceiling, the anti-Semitic origins of the war on 'fake news' and the opioid crisis, "Made by History" aims to explore the origins of policy battles, illuminate the social and cultural pathways that led to societal fractures and grapple with parallels between the past and the present, Rosenwald and Hemmer say.
"We're trying to provide this historical context, and it seems that there is a hunger for this context," said Rosenwald, now a historian at the University of Pennsylvania. "We're trying to give readers a perspective that's diverse, that isn't the typical kind of 'he said/she said,' and that's not really driven by an agenda and that is diverse in every way, shape and form. Which is to say that a lot of our pieces have a perspective, but it's not necessarily a perspective that's political in nature. We ran a piece, for example, on President Trump's attitude toward diet and exercise, which I'm sure someone on the right might say it's a cheap shot against him, but it's not. It's just saying he's a huge divergence from his predecessors. George W. Bush was a runner. Bill Clinton jogged. At least I don't think it's partisan to say that presidents of both parties have been a certain way, and this guy is different. We also had a piece on Ramadan and terrorism which is certainly not a political piece, per se. So we're just trying to be diverse and cover the gamut."
Scholarship in clear English
Rosenwald first approached Professor Brian Balogh, his advisor in the Department of History and the Dorothy Compton Chair in the Miller Center, more than a year ago with his idea for the blog. It was Balogh's idea that he team up with Hemmer, a former Miller Center fellow who returned to the center after completing her Ph.D. at Columbia University and teaching at the University of Miami. Balogh helped them raise seed money for the project, and Rosenwald successfully pitched the blog to The Washington Post.
"As a public university, the University of Virginia has a vested interest in taking the scholarship created here by our faculty and students and distilling it to make it accessible to broader audiences," Balogh said. "The 'Made by History' blog serves as a great example of that ambition. Having a place on The Washington Post website for the thought-provoking work of historians from not just UVA but from other esteemed institutions, it's a great breakthrough for the arts and humanities, in terms of carving out a place where scholarship written in clear English can reach millions of people."
Sarah Milov, an assistant professor of history at UVA who researches the 20th century United States, says she and her fellow historians are "a pent-up bunch, brimming with insights that few beyond the academy hear."
"'Made by History' offers a fantastic opportunity for historians to bring their deep level of expertise to bear on today's news," said Milov, who published an essay on the blog titled "Grass roots activists won the war on smoking. Can they win the war on climate change?"
"More importantly," she added, "it is an opportunity for readers to understand the deeper roots of the conflicts that feel so hot and immediate. Americans are polarized right now, and many are asking fundamental questions about democracy: How did we get here? Have we been here before? What features of our political age are new—and does that make them more or less threatening to commonly-held values? Have Americans ever possessed common values? Historians have unique insights to bring to bear about the persistence and transformation of race, inequality, populism, xenophobia, ideas about sex and gender, and the place of business in a democracy. It's thrilling that we historians now have a reliable outlet for our insights. It's a testament to The Washington Post's wide-ranging commitment to journalism as an integral part of democracy."
Rosenwald and Hemmer serve as the site's editors-in-chief. Kathryn Cramer Brownell, an assistant professor of history at Purdue University, serves as co-editor. The Washington Post declined to share traffic numbers for the blog, but a company spokesperson said that "Made by History" has become a mainstay of The Post's analytic coverage of politics since its debut, with several of its online essays appearing in the print newspaper.
Hemmer says her training as a Miller Center national fellow helped to prepare her for the more public-facing work of an editor of a history-based news blog aimed at a general audience.
"That's where I first learned to write for the public," Hemmer says of the Miller Center. "My fellowship focused as much on training how to write op-eds as it did on finishing a dissertation. For me, that really shaped my career in a lot of ways. It can be quite a transition for academics who haven't done a lot of public writing to learn the genre, to learn to put the argument front and center, learn to clear out some of the examples and to write for a general audience. That's something where we work pretty closely with the authors on, and so far, it's been OK."
Benjamin Davison, a Ph.D. candidate in the Department of History, had a column published by "Made by History on June 30 ("How our appetite for cheap food drove rural America to Trump").
"'Made by History' offered me a real chance to present my scholarship to the wider public,' said Davison, who is writing a history of the supermarket industry. "Thanks to my involvement, I've done interviews and contributed to other major media like NPR and The Atlantic. It's been a career boost, for sure."
Shortly after the blog's launch, Rosenwald said that they were already receiving as many as 30 column pitches a week for the blog. Their contributors represent more than 50 universities.
"There are a lot of connections that I made at UVA, both through the History Department and the Miller Center that helped create this network of people involved in this project, starting with Brian Balogh," Rosenwald said. "Some of my other professors at UVA who are wonderful writers and writing teachers, Gary Gallagher and Mel Leffler come to mind. Maybe I didn't necessarily appreciate it as much in the moment, but they really pushed me to become a better writer, and that's helped me to understand what good writing is, where to find it and what it looks like."