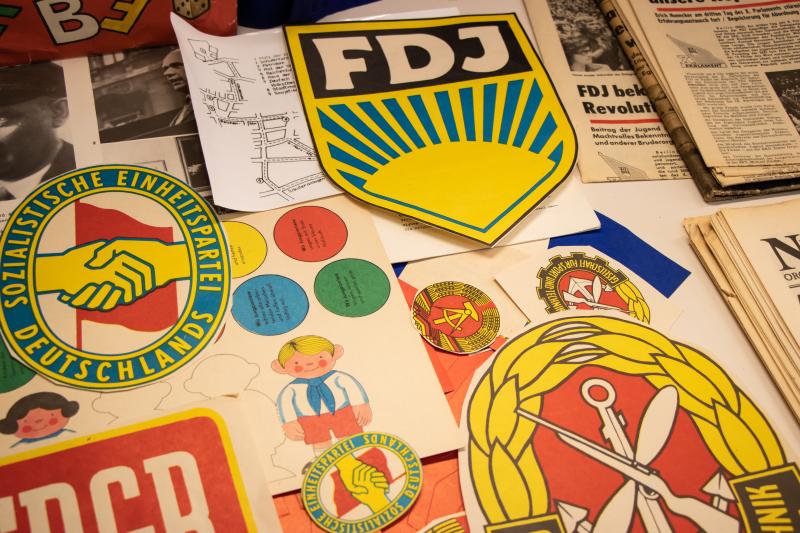 At first glance, the objects in Kyrill Kunakhovich's Nau Hall office looked like what you might find in a mid-century American home—a rotary phone, pop records, fashion magazines. "On the one hand, it's all very familiar. On the other, it's just a little bit off," said Kunakhovich, an assistant professor in history who teaches classes on twentieth-century Europe, nationalism, communism, and the Cold War. The magazines, for example, were filled with sewing patterns for state factory designs. The telephone's rotary dial featured the number for the People's Police (Volkspolizei). The items were actually relics of a place that no longer exists: East Germany.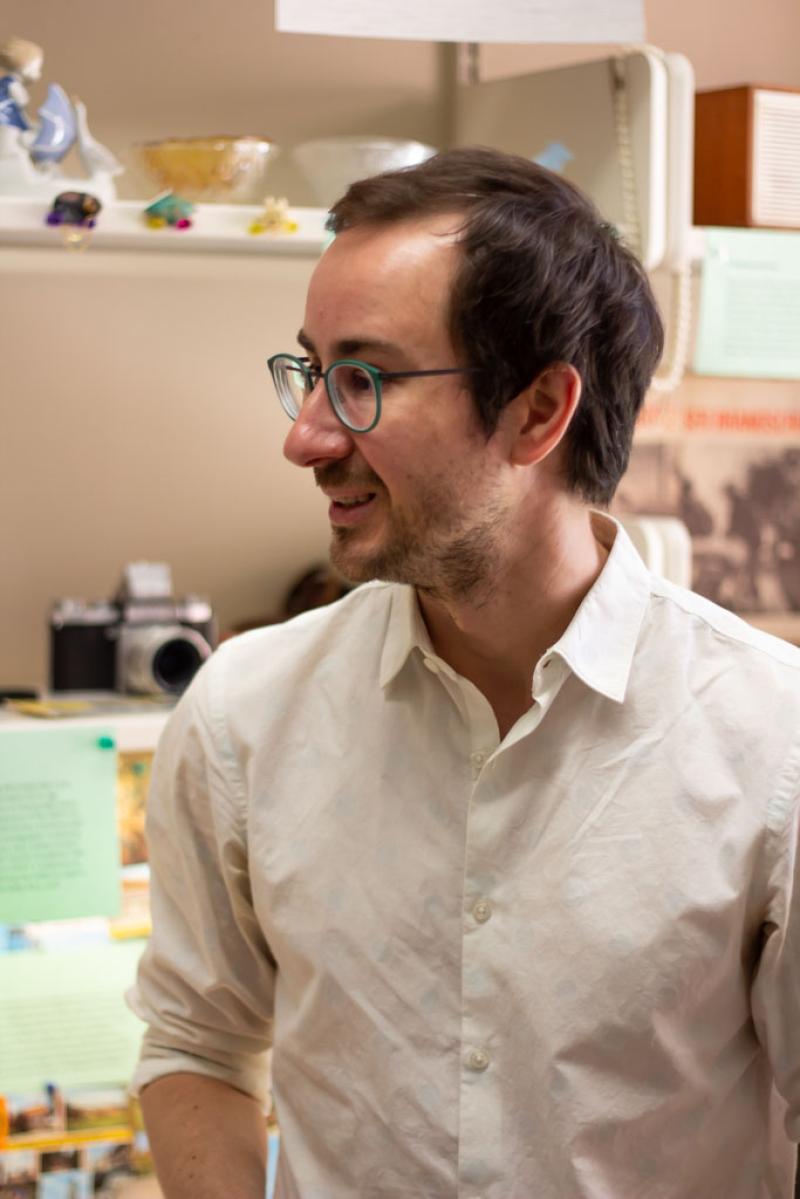 Kyrill Kunakhovich, Assistant Professor of History
In the fall of 2017, Kunakhovich was awarded a grant from UVA's Mead Endowment to assemble and display a collection of East German artifacts. He worked with approximately 30 students from his Fall of Communism and Life in Dictatorships classes to recreate an East German living room from 1988, one year before the German Democratic Republic (GDR) collapsed. Each student was given a budget of $50, and together they ordered hundreds of objects through German eBay, from sellers around the world. As the objects arrived, students catalogued them and wrote display captions. At the end of the spring 2018 semester, they transformed Kunakhovich's office into a small museum of East German artifacts.
Kunakhovich, who arrived at UVA in 2016, was inspired by visits with his students to look at the panels of the Berlin Wall that stand near Alderman Library. "Those visits got me thinking about the material culture aspect of history," Kunakhovich said. "Physical objects can transport students to another time and place. Nothing compares to seeing, touching, or holding a piece of history."
Pasuth Thothaveesansuk, a fourth-year history and statistics major who took Kunakhovich's Fall of Communism class last year, was one of the students who worked on the project. "I was able to learn about the process of curation as well as the historical value of artifacts," he said. "The exhibit strove to represent everyday life, without obscuring or trivializing the darker history of a repressive dictatorship."
Thothaveesansuk said the experience of working on the exhibit was so positive that he spent the summer learning German through UVA's Summer Language Institute, and is enrolled in Kunakhovich's Europe and the World class this fall. He also spent two months digitizing the exhibit as a project for a seminar on digital history taught by Loren Moulds and Jim Ambuske of the Law Library Special Collections.
Although Kunakhovich's office has returned to normal for the fall semester, Thothaveesansuk's digital exhibit serves, Kunakhovic said, "as a virtual museum." The exhibit features photos and caption of all of the objects, and Thothaveesansuk is currently working on digitizing each page from the collection of East German papers the students acquired—including identity documents, school certificates, and business records—using a crowdsourcing platform. "This allows for enthusiasts to view our digitized documents in good quality, as well as contribute to transcribing scanned pages into plain text as well as translate them into English," he said.
The live exhibit in Kunakhovic's office received a steady stream of visitors, the professor said, including students, faculty, and community members. One of the most poignant moments was when a group of former East Germans—two sisters and their mother, who was visiting from Germany—stopped by, and reminisced about various objects they remembered from their own home, including the children's traffic board game, Augen auf! or "Eyes open!"—a dice game similar to Chutes and Ladders.
"It was humbling to think how these objects filled with history were part of a reality that spanned the course of a generation, but also disintegrated overnight," Thothaveesansuk said.
Check out a selection of items from the exhibit below, with captions written by Kunakhovic's students.
Identity Documents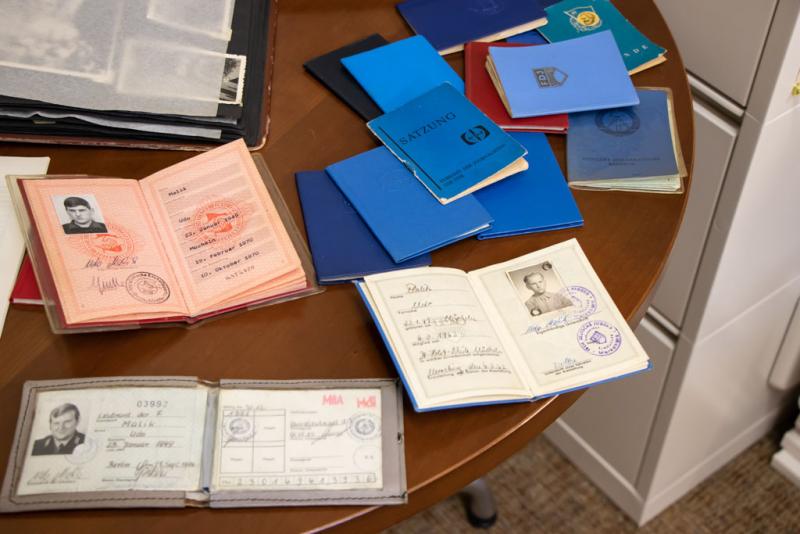 East Germans often had dozens of identity documents: passport, driver's license, work ID, but also membership cards for mass organizations. Many of the documents here belonged to a man named Udo Malik, who was a member of the Socialist Unity Party, the Union of Journalists, the Free German Trade Union Federation, the German Gymnastics and Sports Federation, and the Society for German-Soviet Friendship. All of these organizations charged monthly dues (indicated with small stamps in each ID card). Most East Germans belonged to several mass organizations, which functioned as "transmission belts" between state and society: they helped individuals engage with the state but also helped officials to keep tabs on them.
Records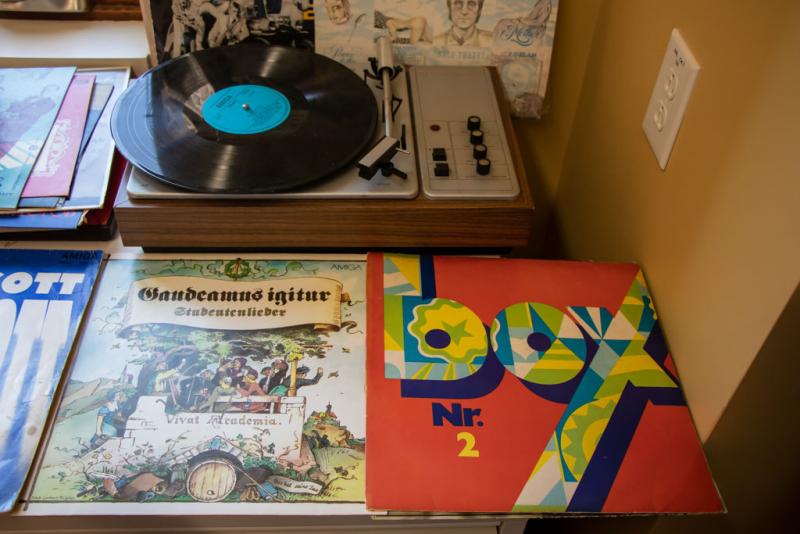 All these records were produced by the GDR's state record label, Amiga, which released over 30,000 titles between 1947 and 1989. Many feature music from East Germany, like "Big Beat" - the first album of GDR rock, from 1965. Others highlight artists from across the Soviet Bloc, such as the Czechoslovak crooner Karel Gott. Western artists were also represented, provided that they could be characterized as "pacifist" or "progressive." Most major musicians made the cut, though often with a significant delay: AMIGA's first Elvis Presley LP came out only in 1978.
Typewriter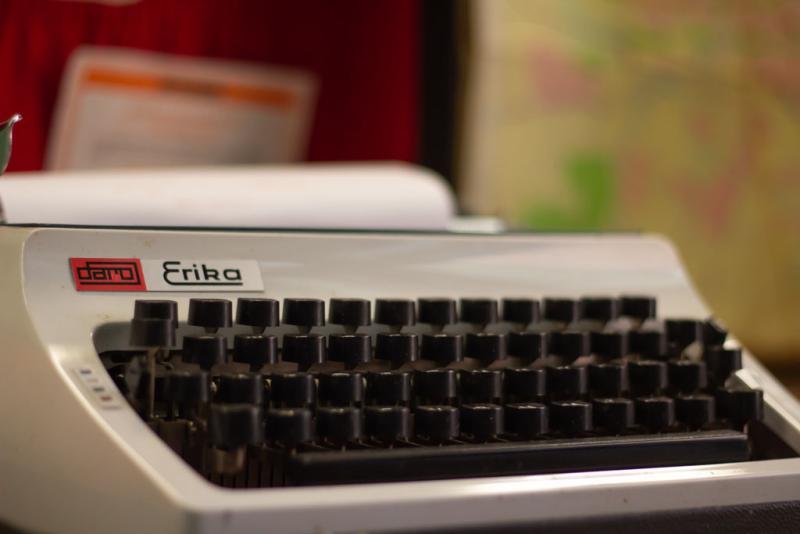 This Erika Daro typewriter was produced by the Robotron company in Dresden in 1973. It comes with multicolored ink (which still works!), a carrying case, and a set of cleaning brushes. Typewriters were handy for filling out forms and typing reports, but they also found an unintended function in the GDR: spreading underground literature. Censored or forbidden texts that could not appear in print circulated as typewritten manuscripts. They were passed on from person to person and could be copied on one's own typewriter.
Alcohol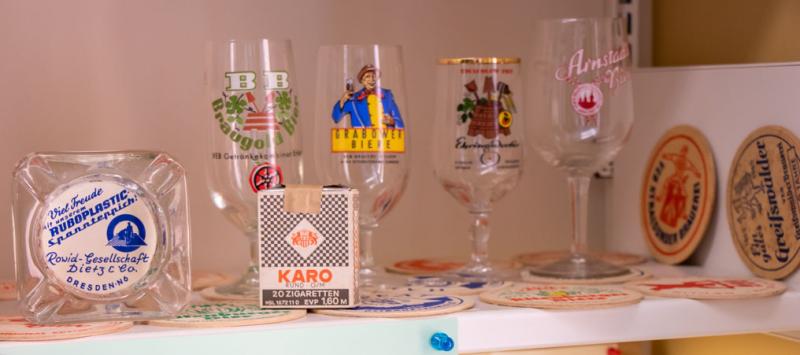 Alcohol was widespread in the GDR: so widespread, in fact, that it became a major problem. In 1988, the average East German drank 23 bottles of hard liquor a year—the highest rate in the world, and twice as much as the average West German. That average GDR citizen also knocked back 12 liters of wine and 146 liters of beer. Alcoholism rates were high, though the state rarely mentioned them in public. According to the official narrative, such social problems only existed in the West.
Photo Albums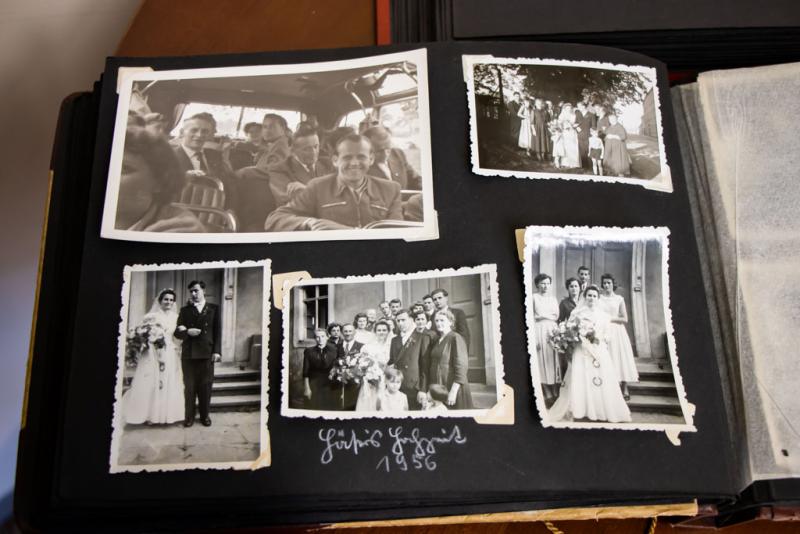 The GDR state actively encouraged factory workers to form photography clubs and document their life—thereby promoting the socialist ideal of "the workplace as a second family." To protect this image, officials often resorted to censorship in public exhibitions and photography magazines. Private photo albums, though, were another matter. As cameras became widely available, many East Germans took pictures of their families, their homes, and their vacations—images that offer an unfiltered look at life in the GDR.
Cowboys and Indians set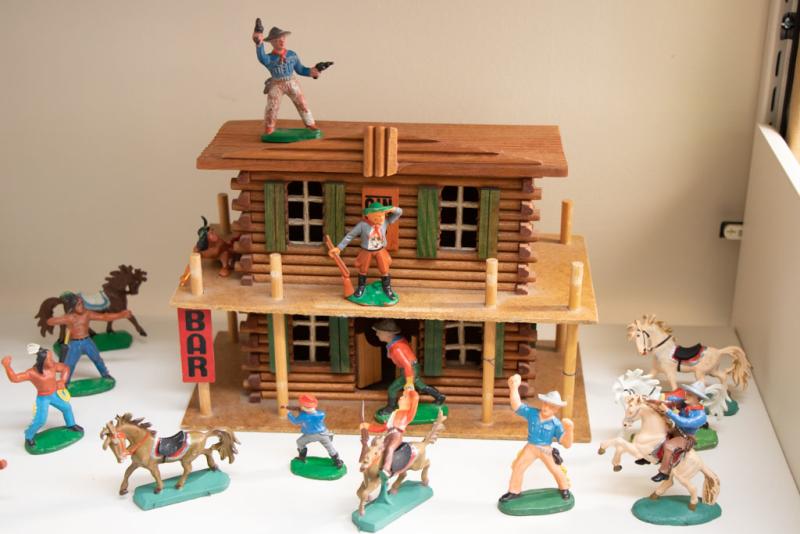 This set of plastic cowboys and Indians figurines was a beloved—and widespread—children's toy. German fascination with the American West dates to the writer Karl May, whose novels first popularized the topic in the late 19th century. The East German regime actively promoted May's books, portraying Native Americans as victims of age-old American imperialism. Films set in the American West, and starring the Yugoslav actor Gijko Mitić as a Native American chieftain, became the GDR's most popular productions.