From Papua New Guinea to Brooks Hall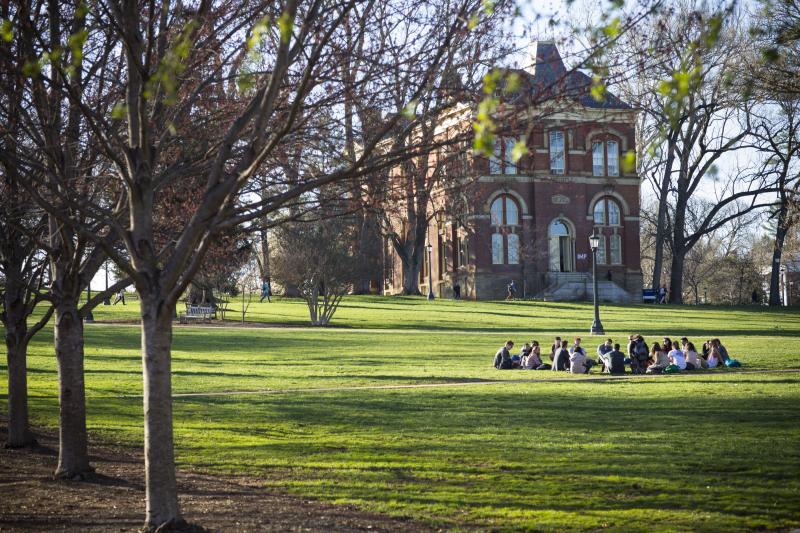 Last spring, University of Virginia anthropologist Lise Dobrin's students were looking forward to curating and mounting an end-of-semester exhibit of bilums, hand-crafted, looped net bags made and carried and given by people as gifts in the Pacific Island nation of Papua New Guinea. By early March of last year, however, the coronavirus pandemic had forced the University to move all spring semester courses online, and Dobrin's "Curating Culture: Collection, Preservation, and Display as Cultural Forms" set aside those plans.
Until now.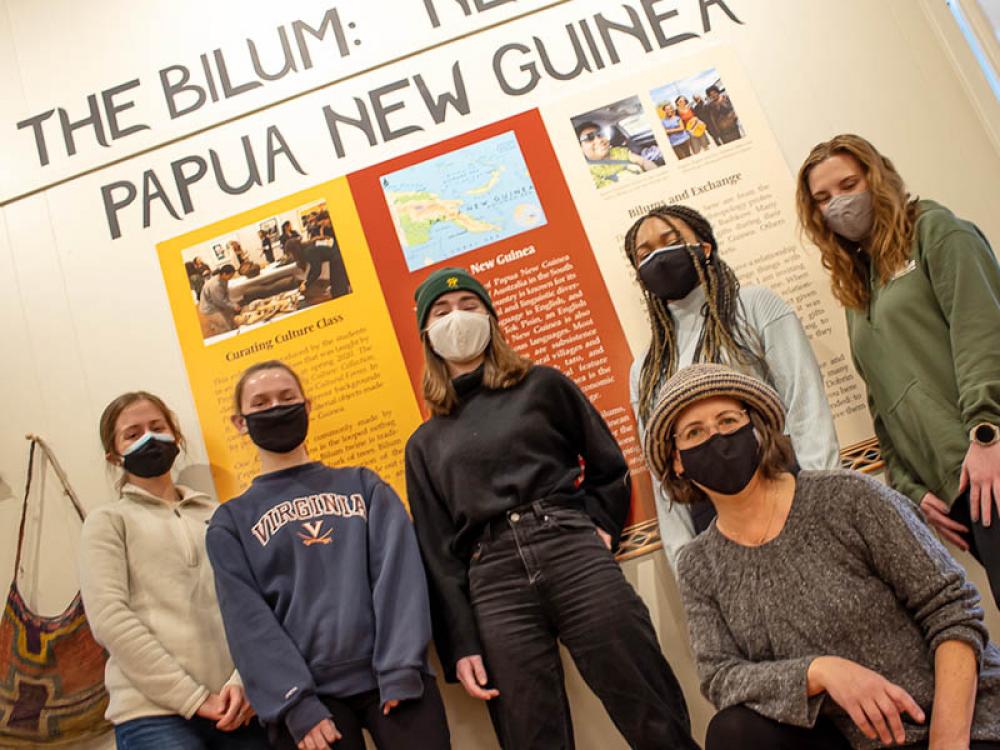 Although the seminar concluded last May and its students have graduated or moved on to other courses this academic year, many of Dobrin's students returned to volunteer over the course of this spring semester to mount the colorful exhibit now hanging on the walls of Brooks Hall's airy common space. "The Bilum: How Do You Carry Things?" exhibit is open to the public Monday through Friday, from 9 a.m. to 5 p.m. The exhibit's opening was celebrated recently with a webinar — now posted on the UVA Arts YouTube channel — featuring Dobrin and three of the seminar's 16 students detailing the long-term effort to mount the exhibit of indigenous material culture.
"When the pandemic hit, things were not looking so good for putting on a physical exhibit. But then, starting last fall, some of us thought, 'Well maybe we can still do this," said Dobrin, a linguist and associate professor in the College and Graduate School of Arts & Sciences' Department of Anthropology. "I have to give special thanks to the students who kept coming out to help make this happen, even though the course was long over."
Support for the exhibit was provided by the University's Mellon Indigenous Arts Program, The Fralin Museum of Art at UVA, and the Kluge-Ruhe Aboriginal Art Collection. Part of the mission of the Mellon Indigenous Arts fellowships is to bring attention to the items in the Fralin's collections of indigenous art. To further that goal, Dobrin's students conducted research on a set of understudied objects from the museum's collection of Oceanic Art and shared their results back with the museum.
"So not only did the students learn, but they made a real contribution to the university by filling in
knowledge for the museum's object files," Dobrin said.
A grant from UVA's Institute of the Humanities & Global Cultures also helped to cover some of the costs of mounting the Brooks Hall exhibition. Many of the bilums on display come from the personal collection of Dobrin and her husband — and fellow associate professor of anthropology — Ira Bashkow, accumulated over years of field work in Papua New Guinea.
Dobrin first traveled to Papua New Guinea in 1997 to research Cemaun Arapesh, an endangered language spoken by a shrinking number of villagers on the country's northern coast. Shortly after Dobrin's arrival, a friendly villager named Jacob Sonin welcomed the American graduate student into his household. By the end of her stay, Dobrin and the Sonins considered one another kin.
The majority of the bilums hanging in Brooks Hall were made by Dobrin and Bashkow's Papua New Guinean friends and adoptive family. The UVA anthropologists view the exhibit as an opportunity to share the story of those people with the public here.
"One of the things that my students and I learned in preparing for the exhibit was how Brooks was originally built in the 1870s to be a natural history museum," Dobrin said. "So it's cool for us to be using it again for that purpose, we hope now in a more enlightened way."
An uplifting project
Bilums are used for a variety of everyday tasks ranging from carrying food to holding sleeping babies. Traditionally, women in Papua New Guinea wove them with twine made from the bark of trees, and their patterns and styles varied from region to region. Today, acrylic yarn and other manufactured materials are used in a variety of new styles and designs.
Elli Perkins, a fourth-year student of Dobrin's graduating this month with a degree in anthropology, said it was important to carry through with their plans to mount a physical exhibition.
"There are so many aspects of what we learned in the class that a virtual exhibit would not have captured," Perkins said. "It was something we looked forward to working on every week [this winter], and whether the progress we made was small or big each week, it was just really uplifting to have this project to look forward to during what had been such a negative time."
Fourth-year student Meimei Xu said it was important to convey the everyday nature of the bilums. Hanging alongside the bilums are photos of people using them for ordinary tasks. One is an image of a Facebook post of Dobrin's sister-in-law Grace Narokobi, who lives in the Papua New Guinea capital of Port Moresby, with a bilum resting on the car seat next to her.
"We focused on showcasing pictures of individuals that Lise knows well to create a humanistic atmosphere around these bilums to show that they're not only exhibition objects but also are used, loved and valued," said Xu, who is graduating from the College this month with double majors in cognitive science and anthropology.
Visitors to Brooks Hall are encouraged to touch the bilums and take them off the wall. Holding exhibited items is not usually allowed in museums, but in this case, the items are really meant for everyday use.
Louise Brosnan, another student from last spring's class, said the class and the Brooks Hall exhibit were a perfect bridge between her interest in global cultural studies and the arts. A third-year student majoring in global development and art history, Brosnan is interested in pursuing museum work as a career path. Getting the extra time to plan and install the exhibit a year later paid off, she said, in the sense that they were not bound by the time constraints of wrapping everything up within the semester as a course project.
"There's so much more that can be done outside of a semester, and we really just scratched the surface of what could be done during the actual class [last year]," Brosnan said.
No end date for the Brooks Hall exhibit has been set, but Dobrin said she hopes to keep it up through 2021 to enable as many people as possible to visit and enjoy it in person. The recording of the April 12 webinar featuring Dobrin and her students discussing the exhibit is available online.