Woodson Institute Debuts Jefferson Podcast Series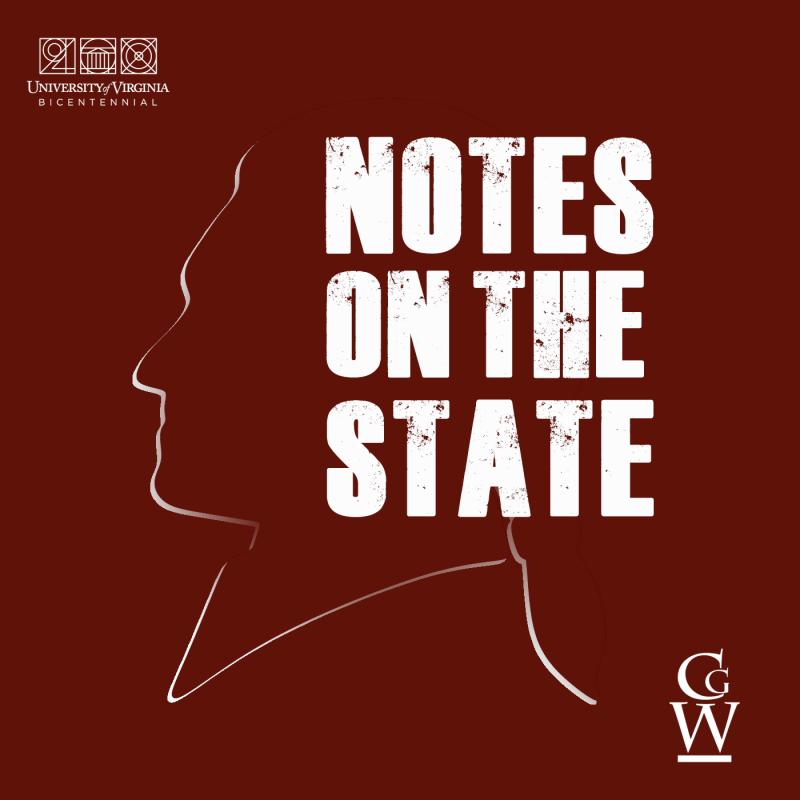 The Carter G. Woodson Institute for African-American and African Studies is celebrating the debut of its new podcast series on the legacy of Thomas Jefferson with a public release party on February 15.
A six-part series, "Notes on the State" is the Woodson Institute's first podcast and features conversations with a variety of scholars from the College and Graduate School of Arts & Sciences, Jefferson scholars from other American universities, and officials from Monticello, the plantation home of Jefferson, his family and the slaves he owned. The podcast takes its name from Notes on the State of Virginia, Jefferson's 1781 book written in response to a series of queries posed by a French diplomat.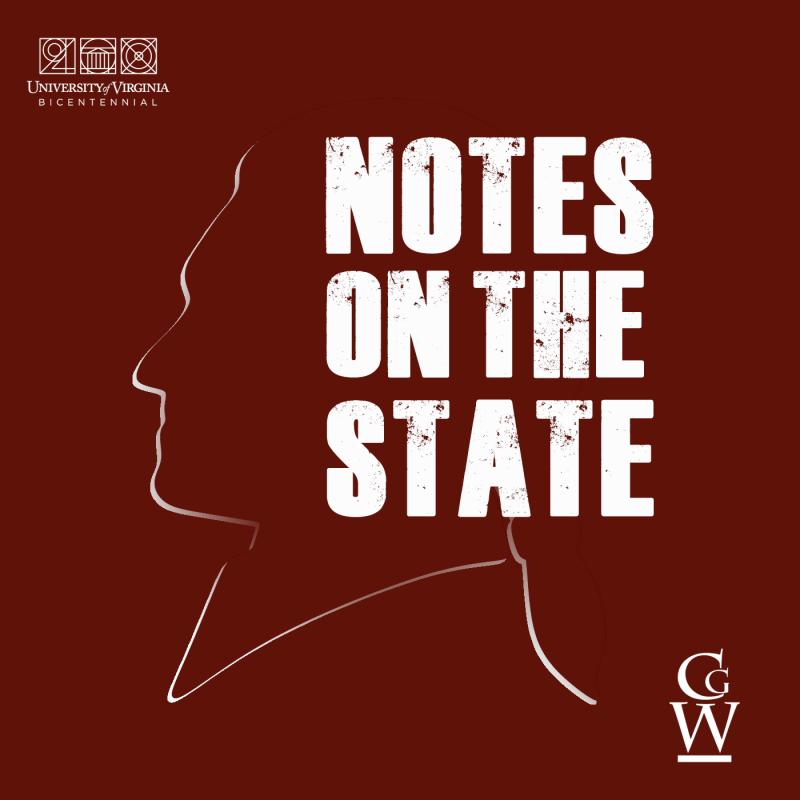 "Notes on the State" is available for downloading and subscription on various podcast platforms (iTunes, Stitcher and Spotify). Its first episode will be released on Presidents' Day (Feb. 18), but interested listeners can get a preview of the series at its release party this Friday, Feb. 15, held at 7 p.m. at the Bridge Progressive Arts Initiative (209 Monticello Road in Charlottesville).
Woodson Institute Director Deborah McDowell, who hosts the podcast series, said she has long wanted to do an examination of the book for the general public.
"Of course, we have to take up the multiple and often contradictory facets of Jefferson's life and career, beginning with his role as a Founding Father who championed liberty and equality while owning more than 600 slaves as a Southern plantation owner, but there is so much more to examine," McDowell said.
"UVA's bicentennial allows us this opportunity to examine the familiar and fundamental contradictions, but also to move the conversation around Jefferson beyond these two poles, where it typically stalls," McDowell said.
The subtitle for the podcast is "Jefferson beyond Jefferson," a reference to the work of Duke University political philosopher Michael Hardt, who has challenged us to "extend the lines of Jefferson's thought" to "carry it beyond its own limitations."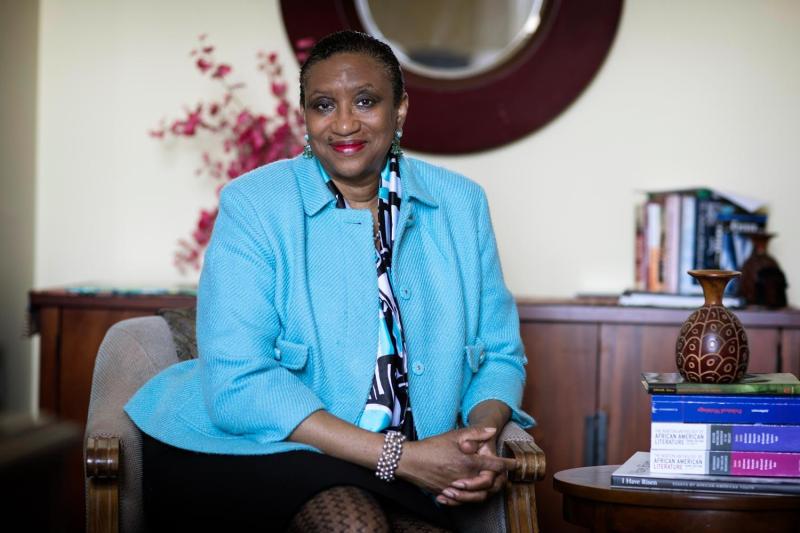 Deborah McDowell, the Alice Griffin Professor English, directs the Carter G. Woodson Institute for African-American and African Studies.
Dan Addison / University Communications
According to McDowell, "We have to carry those ideas of Jefferson that were fertile and revolutionary in their first articulation, but that revolutionary potential was not realized. How do we get a 'Jefferson beyond Jefferson?' How do we take those ideas and the promise they held originally and make them live again?" McDowell said. "We don't want to keep stating the obvious: 'Well yes, equality on the one hand, slavery on the other.' We know that. Can we know anything else? Is it possible to take the original promise of his ideas and bring them forward? How can they can be made to live, but also, how do we look at aspects of Jefferson that nobody talks about?"
A future episode of the series will focus on Jefferson's thoughts and his role in the history and formation of the prison system, for example. Jefferson was in conversation with leading prison architects of his time, McDowell said, and while he was in France, he was commissioned to send back to Virginia a blueprint for what would have been the first penitentiary in the state. (Jefferson prepared the drawings, which are now held by the Massachusetts Historical Society, but they were not executed.)
"Whenever I mention this detail to people, very few have heard of it before," McDowell said. "This podcast series is about finding and exploring these and other lesser known details, in order to ask what else we need to know about this iconic figure that we still don't know or have sidelined."
The first episode, exploring the origins of Notes on the State of Virginia, features UVA professors Brad Pasanek (English), John O'Brien (English) and Kwame Otu (Woodson Institute), among others. Other episodes, each of which range from 30 to 45 minutes in length, feature conversations with Arts & Sciences Dean Ian Baucom, Lisa Woolfork (English) and Robert Fatton, Jr. (Politics), as well as scholars from the University of Pennsylvania, the University of California, San Diego, and other universities. For a full list of contributors to this and future episodes, visit the podcast website.
"Notes on the State" producer James Perla, who also manages the Woodson Institute's Citizen Justice Initiative, said the wide-ranging podcast series also will explore the institution of slavery at Monticello and at the University; Sally Hemings and the Hemings family; and the role of the Haitian Revolution in arguably one of Jefferson's most influential actions as U.S. president, the Louisiana Purchase.
In addition to conversations with some of the leading Jefferson scholars in academia, Perla said the project weaved in comments about Jefferson and the University of Virginia recorded by UVA students and area high-school students during "person on the street" interviews last summer during the Woodson Institute's Citizen Justice Summer Internship Program.
"There is something about the podcast format that is both engaging and also really intellectually rigorous as well," Perla said. "It goes to one of the philosophies of our series, which is to try to communicate to the general public the kinds of conversations that we have in academia in a way that's exciting and accessible for everyone as we talk about questions of race and equality and justice.
"We've seen a lot of projects that look toward the past and the impact of slavery at the University of Virginia, but we're really interested in looking at the future as well, thinking of the ways we can talk about Jefferson in more complicated, more nuanced ways. This podcast series allows us to spend time with the complexities and inconsistencies in Jefferson's Notes on the State of Virginia that help to illuminate many of the issues with which we are still struggling today, largely because we have continually avoided confronting them honestly and straightforwardly."
Over the coming months, the "Notes on the State" team will use social media to alert subscribers to additional behind-the-scenes materials posted online from each episode, with links to further references.